In the world of sports there are always references that do not go unnoticed and that will be remembered forever in the sport. These unforgettable players were very good at their performance due to their style of play or to the successes they achieved in their careers, and it is worth mentioning some of those examples in soccer, one of the most famous sports in the world.
The great Alfredo Di Stefano and his life with the "merengues"
Alfredo Di Stefano, was a great soccer player born in Argentina and also a nationalized Spanish player, who surely the people of the last century still remember as one of the emblematic players of Real Madrid and who had his golden era in that team after his debut in 1953 wearing the merengues jersey and feeling proud to play for the first time with the white team that he had always wanted to participate in. During his militancy in this team he contributed to his club in winning 8 Spanish leagues, 1 Copa del Rey and also international titles such as the Intercontinental Cup, but what made him more famous within the white fans was the great feat of having participated in the 5 consecutive UEFA Champions League wins that Real Madrid achieved between 1956 and 1960, so it can be perfectly said that he was a five-time champion of the Champions, no other team or player has made the same. Di Stefano passed away in 2014 and he will be remembered forever in the world of football for all the goals he scored and the great offensive he had with Real Madrid at that time.
Maradona's hand of God Goal and one of the best goals in history
Diego Armando Maradona, born in Argentina, is considered by many media and football specialists as one of the best players in history, and beyond a discussion among Maradona, Pelé, Ronaldinho or others about who is better… it is important to know that Maradona carried out a very important role in his national team Argentina. Maradona had a time where everybody knows his achievements were remarkable since he was the undisputed champion with his Argentina team. He participated in 4 FIFA world championships and the trophy we raised was the championship in the Mexico 1986 edition, but not only that, he also achieved the World Cup runner-up in Italy 90. It was also famous for a very controversial goal of which many people still remember and it was the goal he scored with his hand against England of which the referee determined it as a legitimate goal with the head, but according to the replay videos the goal was clearly made with his hand so he did a confusing movement that allowed him to raise his hand enough to hit the ball and put it in the goal and make it look as if he had done it with his head, so the referee could not see well and fortunately for Argentina that goal, along with another, was enough to beat England 2 – 1 in the quarterfinals and to pass to the next round. Maradona in terms of football clubs was not as successful as in Argentina but it was a key part of his club Napoli for the league seasons.
The Galacticos of Real Madrid
Real Madrid during a time at the beginning of the year 2000 was characterized by having recruited the best players who were going through their best moment in Europe and consolidated them into a single team whose ambition was to win LaLiga of Spain, La Copa del Rey and the UEFA Champions League consecutively just as it had done in the past.  They wanted to win everything they could and be the best team in Europe for several years. The excellent players signed by Real Madrid at that time were Figo, Ronaldo, Beckham, Zidane, Raul, Casillas, Guti and Roberto Carlos who played an extremely offensive football style that delighted their fans with their goals and made many of their opponents tremble by seeing so many talented players together.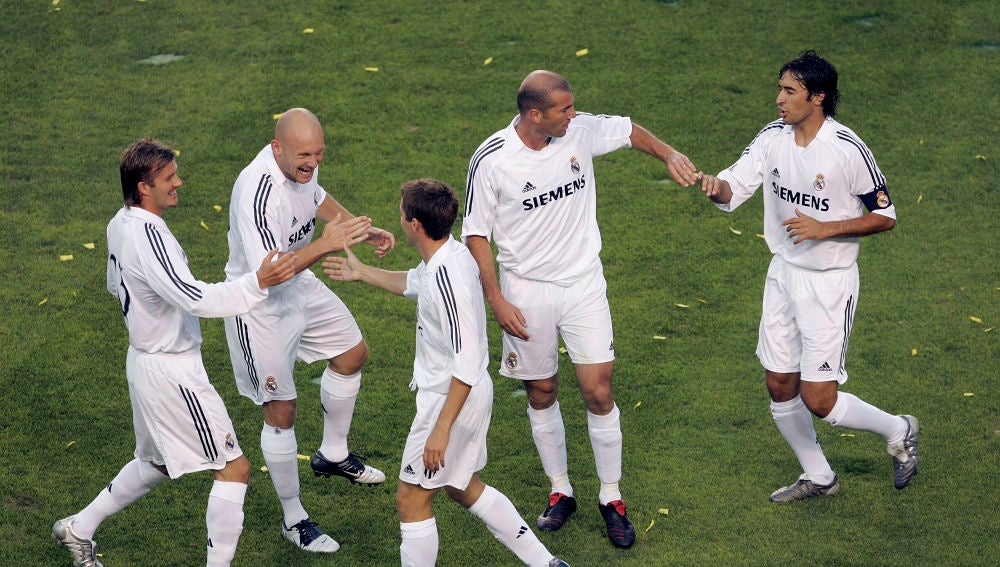 Despite all this, it was not a sufficient guarantee to achieve the victories they expected and they lost many of the opportunities to achieve those titles such as the UEFA Champions League where they could only win 1 of the 6 seasons that were together, then they were later transferred by other clubs and replaced by other players, but the "Galactic Era" will always remain in history as well as Ronaldinho's goals at Barcelona that was at the same time and was also considered one of the best players in the world with a unique style and a way of playing that no one has equaled so far.